Air Conditioning Services for Your Dallas, TX Home
Call (214) 351-7030 for Air Conditioning Services in Dallas & Beyond
There's nothing quite like summertime in Texas—from May to October, it's always hot. And when the heat comes barreling in, you hope your home's air conditioning system is ready to take it head-on. But what happens when your cooling system just isn't cutting it? Or worse, it's not turning on at all? That's when you need Barbosa Plumbing & Air Conditioning.
We offer air conditioning services in the Dallas area, including:
Air conditioning installation
For four decades, Barbosa Plumbing & Air Conditioning has been the leading HVAC company in Dallas for keeping residents cool even in the most unbearable of temperatures. We always put our customers' needs first, and whether you need heat pump repair or an air conditioner replacement, you can know that your needs are covered!
Looking for a quality AC service team in the Dallas, Carrollton, and Farmers Branch areas? Call (214) 351-7030 or schedule air conditioner services online!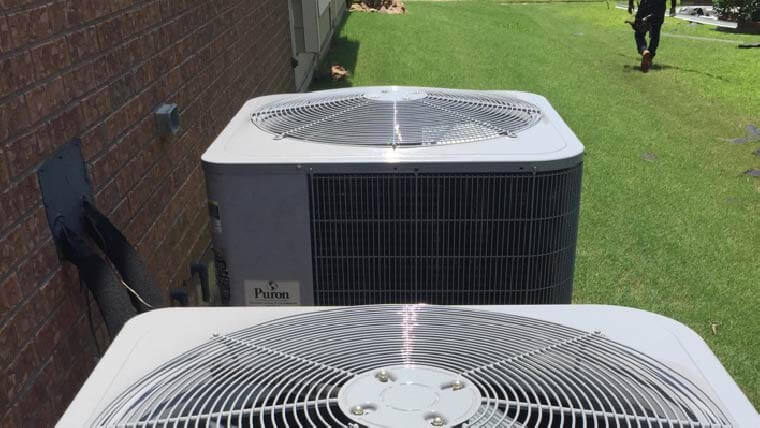 AC Replacement in Dallas, TX: How We Do It Right!
Summer in Dallas can be terrific, but not without AC! Choosing the right cooling system for AC replacement can be confusing, with all brands insisting they're the best. Don't let analysis paralysis ruin your home comfort this summer. The AC experts at Barbosa are familiar with all the features and the pros and cons of the latest, most reliable air conditioning systems on the market. Let us help you learn about your options for AC replacement.
We're perfectionists about air conditioning system installation—we'll leave you with a high-performance and high-efficiency cooling system that maximizes your comfort while minimizing your utility bills.
Our trained and experienced technicians know what it takes to cool a building of any size or type. Whether new or replacement, Barbosa Plumbing & Air Conditioning can assess your home's cooling needs to tailor a system to your comfort levels and energy needs. An installation from our team guarantees:
A long, efficient life for your air conditioner
Minimum utility payments over the life of your system
Quick installation with the finest craftsmanship
Friendly & knowledgeable technicians in Dallas
100% satisfaction
Get the best air conditioner for your needs, paired with expert AC installation! Contact Barbosa Plumbing & Air Conditioning today.
AC Maintenance: Why It's Essential
Complex machines that you use daily, like your car or your home's central AC system, won't last long without proper care. That's why we offer professional air conditioner tune-ups to keep your system in peak condition for the next decade and beyond. During your air conditioner maintenance call, your HVAC technician will inspect, test, clean, and lube the cooling equipment. Everything gets a health checkup, including the electrical connections, the cooling coils, and the duct system.
With our preventative maintenance service, your AC will run efficiently and reliably, with little need for repair calls. We typically catch any failing wear-and-tear parts during our maintenance visits, and (with your approval) replace or repair the part. With proper AC maintenance, you'll avoid a breakdown, and you won't have to see us until the next year's AC tune-up!
A one-time or semiannual maintenance visit from Barbosa can ensure:
A longer system lifespan
Long-term utility savings
Avoidance of future repairs
A safer and more comfortable home
Take good care of your air conditioner, so it can take care of you! Contact Barbosa Plumbing & Air Conditioning to schedule AC maintenance today.
Air Conditioning Repair in Dallas, TX
In the relentless heat of summer, a broken or malfunctioning air conditioner can be devastating. You shouldn't have to spend any more time than you need to before your system is repaired. Barbosa Plumbing & Air Conditioning has experience in repairing all types, makes, and models of air conditioning systems, including Carrier.
Call (214) 351-7030 any time, 365 days a year, if you experience:
Abnormal noises or odors coming from equipment
Inability to keep your home cool
Increased energy costs
Unresponsive equipment
Dealing with an air conditioner problem? No matter the time or the day, Barbosa Plumbing & Air Conditioning offers 24-hour AC repair. Schedule an appointment today.
AC Repair: Signs You Need Air Conditioning Repair
Watch for the following signs that tell you it's time for AC repair:
Strange noises from the cooling equipment: Your motor bearings may be damaged or there could be a much less serious AC problem going on, like a vibrating part or a screw loose. Barbosa is ready to quiet your AC down with the proper repair.
Weird odors from the air conditioner: A burning smell could mean an electrical issue or faulty sensor, while a moldy smell could mean a blockage in the condensate drain. Let our talented HVAC techs find out what your air conditioner is saying, then make a prompt AC repair.
Your AC freezes up: Yes, this can happen even in the hottest weather! If the AC coils have accumulated lots of grime, the circulating refrigerant can freeze—stopping your central AC in its tracks.
The air conditioner isn't keeping up with the heat: If your AC is putting out warm air, or simply unable to keep your home cool, you're due for a repair. Your filter may be clogged, or there may be a blower malfunction or a more complex issue.
Leaking air conditioner: Let us troubleshoot a possible drain line problem and check your cooling equipment thoroughly. We'll make the proper AC adjustment or repair in no time.
Your energy bills keep growing: Energy costs shouldn't go up drastically for no apparent reason. When your AC is not running efficiently, have one of our friendly, expert HVAC technicians quickly diagnose the AC problem.
Your AC dies on the hottest day (or night) of the year: You need emergency AC repair if you have a breakdown in extreme heat! Our team is always on call for you, 24/7.
Trust our Dallas air conditioner detectives to investigate and quickly make the necessary AC repairs. Contact Barbosa Plumbing & Air Conditioning online or call (214) 351-7030 today.
Schedule Air Conditioning Services in Dallas, Carrollton, Farmers Branch & Beyond
Barbosa Plumbing & Air Conditioning has been providing quality customer service and unbeatable solutions to Dallas-area homeowners for over four decades. Whether you experience a last-minute emergency or are interested in having a new system installed, we are the quality-focused HVAC company you can trust.
Schedule air conditioner services with Barbosa Plumbing & Air Conditioning online, or call (214) 351-7030 to speak with a licensed technician now!
We provide AC services in the Dallas area including Carrollton, Farmers Branch, Irving, North Dallas, and more!