Barbosa Provides Fast, Reliable Drain Cleaning in the North Dallas Area
When your drains become slow or completely clogged it impacts your entire home. Things can get smelly, and losing use of your plumbing system when it is not functioning properly is very inconvenient. Barbosa Plumbing and AC serves the North Dallas area with the plumbing expertise necessary to get things flowing again. We are capable of handling the toughest clogs in any type of drain, including:
kitchen sink drains
bathroom sink drains
shower and bathtub drains
toilet drains
laundry drains
floor drains
exterior drains
sewer drains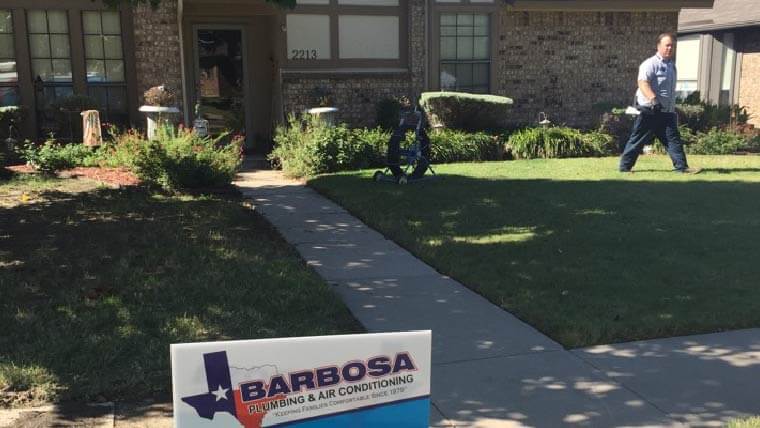 What causes sewer backups?
A sewer backup can cause your home and property to have a bad sewage odor. Sewer backups can be caused by external forces, such as tree roots penetrating through the drain. Backups can also be caused by inline blockages, typically solids building up over time and constricting the flow through the sewage pipes. In either case, Barbosa will get your sewer drain functioning properly again.
Call Barbosa for Drain Cleaning Services Today!
We know you can't wait for drain cleaning, especially when it's your sewer drain that is backed up. Give us a call at 214–351-7030 for speedy, reliable drain cleaning services in the North Dallas area.
Why turn to Barbosa Plumbing & Air Conditioning for Drain Cleaning & Sewer Backup Services?
Experience – North Dallas' trusted plumber for over 40 years.
Expertise – our well trained plumbers are sewer and drain cleaning and experts.
Cutting Edge Technology – Our plumbers have access to the best, most innovative drain cleaning tools to unclog drains efficiently and effectively.
Customer Service – We deliver 5-Star Service with every drain cleaning service call.
Payment Options – We understand that plumbing expenses often happen at inconvenient times, so we accept cash, check, credit and debit cards, and have financing plans available for larger jobs.
Value – Barbosa Plumbing & Air Conditioning is simply the best when you need top quality quality drain cleaning and sewer services for a fair price.