Serving Dallas Homeowners' Plumbing Needs Since 1979
Do the bathrooms in your Dallas area home need an update? Remodeling your bathrooms can significantly increase your home's value, plus nothing says luxury like a custom bathroom. However, upgrading your bathrooms can be stressful.
One of the biggest challenges is making sure your plumbing systems are done right. But don't worry! Barbosa Plumbing & Air Conditioning is here to make your bathroom renovation a breeze.
Ready to remodel your bathroom in Dallas, Farmers Branch, or a surrounding area? Contact us today to schedule services with our licensed plumbers!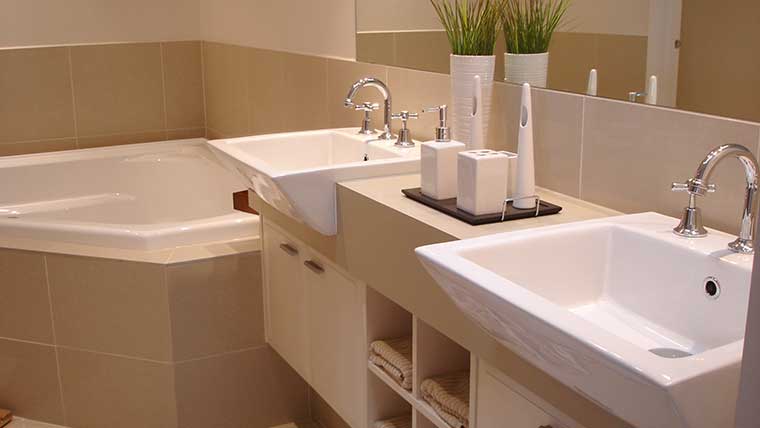 Bathroom Remodeling Services in Dallas
When you're remodeling your bathroom, there's a lot of work that you should choose a professional plumber to handle. At Barbosa Plumbing & Air Conditioning, we have over 40 years of experience handling plumbing needs of Dallas-area residents. We can help make your remodel smooth, with quality installaton and service that you can rely on for years to come.
We offer complete bathroom remodeling services, including:
Bathroom Faucet Replacement
Shower Head Upgrades and Replacements
Bathroom Sink and Vanity Replacements
Bathroom Repiping and Pipe Replacement Services
Bathroom Fixture Location Changes
Whole Shower Upgrades & Replacement
Bathtub Upgrades & Replacement Options
Toilet Replacement & Relocation
Hot Water Recirculating Systems
And More!
Updating your bathrooms doesn't have to be stressful. Whether you're upgrading your fixtures or relocating plumbing pipes to accommodate a layout change, Barbosa Plumbing & Air Conditioning will make your kitchen renovation easy with expert plumbing solutions.
Call Barbosa Plumbing & Air Conditioning at (214) 351-7030 now to schedule a bathroom remodeling consultation in Dallas, TX! We serve the north Dallas area, including the 75007, 75229, 75220, 75244, 75248, and 75230 zip codes!
Why Choose Barbosa Plumbing & Air Conditioning for Your Bathroom Remodel?
We know you have a lot of choices when you're looking for bathroom remodeling plumbers in Dallas. When you choose Barbosa Plumbing & Air Conditioning, you'll get:
Experience. We've been serving the Dallas area's plumbing needs since 1979.
Expertise. Our plumbers are licensed and skilled in plumbing remodels and renovations.
Upfront pricing. We bring you affordable service and honest advice.
Five-star service. Don't just take our word for it! Read our reviews to see what your friends and neighbors in northern Dallas have to say about our plumbing remodeling service!
Contact Us Today to Schedule!
Dallas area homeowners have come to trust Barbosa Plumbing & Air Conditioning with all their plumbing renovation needs, and for good reason! When you schedule bathroom remodeling service with us, you're guaranteeing that you will receive outstanding customer service and satisfaction, plus a job done right.
To schedule a consultation for your bathroom remodeling project in Dallas, contact us online or give us a call at (214) 351-7030!