What Spring Means For Your Property & Plumbing
This past fall Northern Texas experienced the heaviest amount of rainfall it has ever seen. One October morning, a whopping 14.51 inches of rain fell at DFW airport, topping the previous record set in 1981! Naturally, this caused significant flooding in the Dallas area and took a toll on people's plumbing.
But there is a light at the end of the tunnel! Spring is here, bringing warm temperatures and sunshine! Before you venture outside to enjoy the highly anticipated Texas heat, be sure to prep your plumbing system for more rain. That way. you can enjoy the fabulous temps of spring without repairing water damage to your home and tromping through puddles in your yard.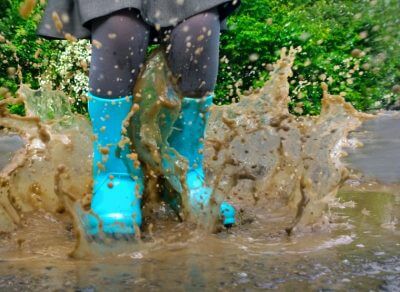 Improve Drainage
If you experienced flooding this year, there are several ways to improve the drainage in and around your home so you aren't faced with the same issues next year. Most home flooding isn't related to the sewer system; in many cases, the downsloping soil adjacent to your home ushers rainwater towards your property.
This can be particularly damaging to older homes in which the foundation may be cracked or weakened by years of wear and tear. Because flooding is most prominent after heavy rainstorms that saturate the ground, it is especially pertinent this year that you check for any damage in the foundation of your home. To best prep for heavy rainstorms in the future, make sure to water-seal your foundation and ensure that all groundwater drains away from your home to reduce any additional force on the outside of your home.
Pooling Water
Heavy rain not only presents flooding problems inside your home, but can also impact your household from the outside. When the storms subside, you may notice a significant amount of standing water has settled on your property. Many assume this excess water will simply be absorbed by the soil, but if enough liquid is present, it can cause significant problems including increasing mosquito populations and damage attributed to mold or wood rot.
Though you can fix these issues on the spot with expensive recurring repairs, it is best to take preventative measures and install the right drainage system for your home. Multiple options are available depending on your home's location and the surrounding terrain. Surface drainage systems work to move water away from your home using a network of shallow ditches, while French drain systems can be installed in retaining walls, your foundation or even your driveway to collect and remove excess water. No matter how your property is situated, there are many different options to fit your unique needs and keep your home safe from water damage!
Check the Sump Pump
Make sure your sump pump wasn't overworked this season, notably due to the heavy rainfall Texas recently experienced. This system is most suitable for homes with standing foundations that include footings, or pier and beam foundations, which are popular in Texas. Because sump pumps are usually a quintessential part of any drainage system, it is imperative that you routinely make sure it is working efficiently. To do this, just pour some water through the unit and watch as it turns on and begins to pump the water from the sump pit. Once all of the water is drained, the pump should turn off automatically. If this does not happen, contact a professional, as it could mean there is a serious issue with your appliance.
Here at Barbosa, we have been keeping Dallas families comfortable since 1979. We employ only the most knowledgeable, experienced and friendly people to meet your individual needs. Give us a call at (214) 351-7030 with any questions or inquiries you may have!