Water Heater Repair, Installation & More in Dallas, TX
Due to its daily use, hot water is not always considered a home comfort feature. But because of its integration into several home utility systems, it's actually one of the most important aspects to keeping a healthy and comfortable home. The use of hot water for hygiene and sanitation is one of the reasons that finding and maintaining the right water heater for your needs should be at the top of your list.
At Barbosa Plumbing & Air Conditioning, we are the team you can trust in Dallas for your water heater needs. Whether you need emergency repair, new water heater installation, or other service, we've got you covered.
To schedule water heater service in the north Dallas area including Farmers Branch, Irving, Addison, and surrounding areas, contact us today!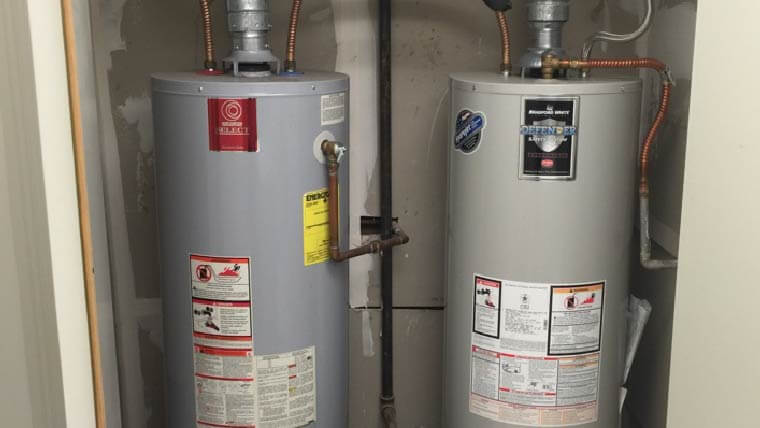 Plumbers in Dallas Serving Your Water Heater Needs
Barbosa Plumbing & Air Conditioning has been Texas' water heater installation, repair, and maintenance expert for years, dedicated to supplying homes with the best products and services possible. Our plumbers are licensed and insured, here to give honest recommendations, upfront pricing, and five-star service.
Water Heater Replacement in Dallas
For water heaters over ten years old, replacement is often recommended. Our plumbers at Barbosa Plumbing & Air Conditioning can assess your water usage and plumbing capacity to determine the size and type of unit that works best for you.
We provide upfront and honest recommendations for your new water heater system and perform installation that you can trust.
To schedule a water usage assessment with our team, contact us today.
Water Heater Repair
A water heater relies on multiple home features to stay working. Our expert plumbers have experience with repairing all makes, models, and types of heaters. We'll provide you with a quick, on-site estimate and get the job done fast, even in an emergency.
Not sure if you need repair? Keep an eye out for these tell-tale signs:
Reduced water pressure
Odd smells coming from your sinks or water heater
Rust-colored water
Poor temperature
Do you need water heater repair in Dallas? Call us at (214) 351-7030 to schedule. We offer 24/7 emergency repair!
Water Heater Maintenance
Regular maintenance is one of the most important things you can do for your water heater. An annual inspection and service appointment can help your water heater operate efficiently and reliably, avoid mineral and sediment deposits, and extend its life span.
During water heater maintenance, our technicians will perform a complete assessment, identifying problem areas and making adjustments to get the most out of your investment.
Call (214) 351-7030 to Schedule Water Heater Service in Dallas!
For over 40 years, Barbosa Plumbing & Air Conditioning has been providing five-star service to the north Dallas area. Whether your water heater goes out outside of business hours, you need a system replacement, or just a simple tune-up, our plumbers in Dallas are the ones you can count on.
Contact us online or call us to schedule water heater service. We're available 24/7 for emergency service!
Water Heater Service Available in Carrollton, Farmers Branch, Dallas, Addison, Irving, and surrounding areas!